Catherine Tate's new sitcom Hard Cell is coming to Netflix in April 2022, with the comedian taking a satirical look at life within the prison system. Filmed in a 'mockumentary' format —just like The Office, Parks & Recreations, and a host of other comedy hits — the comedy sees Catherine playing multiple characters as she guides viewers through life at fictional jail, HMP Woldsley. 
The British comedy performer, who's best known for The Catherine Tate Show and Doctor Who, is the creator and star of the new series and will also direct all six episodes. 
So here's everything you need to know about Hard Cell…
Hard Cell release date
Hard Cell lands on Netflix on Tuesday 12 April 2022. It will be released worldwide.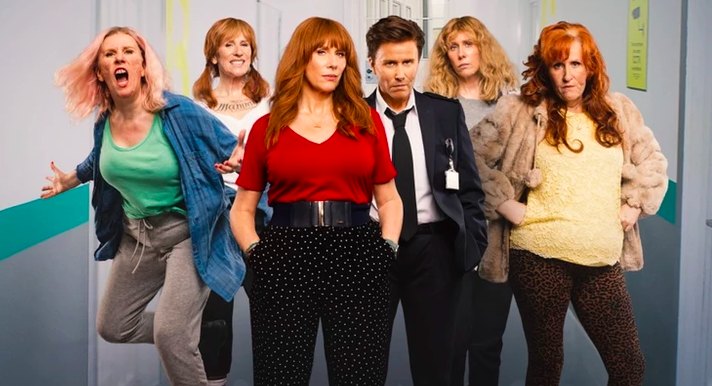 Hard Cell plot
In Hard Cell, Catherine Tate straddles the line between humour and tackling important themes regarding the prison system. Hard Cell is a documentary-style comedy set in the fictional female prison, HMP Woldsley. Writer and creator Catherine plays multiple characters (see character list below) from Laura Willis, the Governor who believes creativity leads to rehabilitation, to Big Viv, the psychopath lifer. Set over a six week period during which the inmates rehearse a musical directed by ex-EastEnders star Cheryl Fergison. Rehearsals draw together an oddball collection of women as they find their voices, grow in confidence and strengthen their friendships. Funny yet surprisingly moving, Hard Cell leans into the comical truth of prison life. 
Producers of Hard Cell have described the plot as "a documentary crew follows the inmates and staff of HMP Woldsley capturing the penal system at its brutal humorous best."
Meanwhile, executive producer Kristian Smith says: "We cannot wait to show audiences on Netflix the inside of HMP Woldsley, our fictional prison occupied by the fantastic creations of Catherine Tate. This series is funny and touching all at once, revealing what life might be like in a British women's correctional facility."
Hard Cell cast and characters
In Hard Cell, Catherine Tate plays multiple characters in the six-part series and seems to be looking forward to the challenge of making her first Netflix series. "Exciting ain't it? Exciiiiiiiiiiiting!!!" she screams. 
Other stars include Poldark star Christian Brassington, Benidorm's Niky Wardley, former EastEnders star Cheryl Fergison, Sister Boniface Mysteries star Lorna Brown, Caroline Harding, Jola Olajide and Duncan Wisbey…
And here are a few of the characters from Hard Cell…
Is there a Hard Cell trailer?
There's no trailer for Hard Cell yet from Netflix, but we'll post it here as soon as it lands.