Hi Streamers! Life can be stressful so if you're in need for a clean break from the day to day, be sure to check out one of our newest never-before seen Roku Originals. "Squeaky Clean," is a show like no other. Hosted by the one and only, Leslie Jordan, the show pits three cleaning-obsessed contestants against each other in an intense battle of the bubbles to win a tidy cash prize. Popular lifestyle host and designer Sabrina Soto, will also join the fun as Leslie's resident cleaning and organization expert.
You'll also get to see a slew of some of your favorite celebrity judges, including Bobby Berk, Loni Love, Erika Jayne, Johnny Weir, Kym Whitely, Jamie Chung, Jeannie Maiand and Iliza Shlesinger, as they inspect critique which contestants truly sparkle and shine through messy challenges.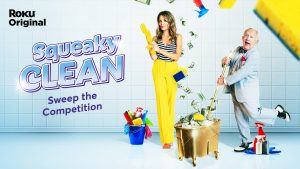 Dying to see who will sweep up the competition? "Squeaky Clean" is will be available on The Roku Channel very soon. In the meantime, keep streaming all of the great Roku Originals.
Happy Streaming!
The post Squeaky Clean Hosted by Leslie Jordan Heads to The Roku Channel appeared first on The Official Roku Blog.