Richard Riakporhe would take a world title clash against London rival Lawrence Okolie "with both hands" and warns that his punch power can "knock out any fighter in the world."
Undefeated contender Riakporhe returns on the Chris Eubank Jr vs Sven Elbir bill on October 2, live on Sky Sports, in the first show since a new partnership with promotional team BOXXER.
British rival Okolie makes the first defence of his WBO cruiserweight championship against Dilan Prasovic on the undercard to Anthony Joshua vs Oleksandr Usyk this Saturday, live on Sky Sports Box Office.
Sky customers: Buy Joshua vs Usyk
Non-Sky customers: Buy Joshua vs Usyk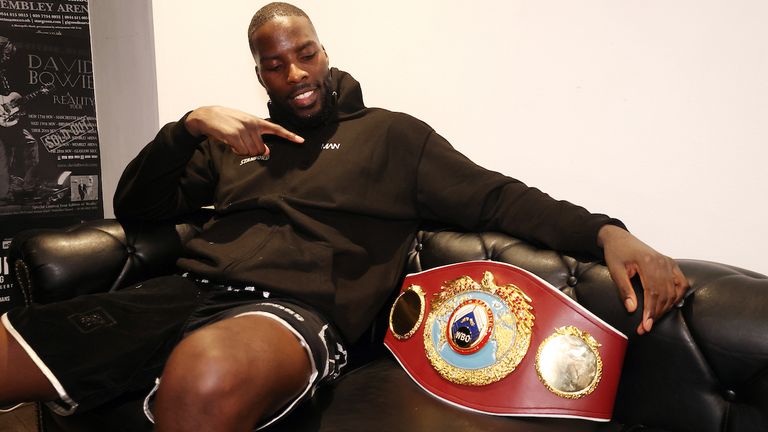 Riakporhe said about Okolie: "There is a good chance we can cross over. People will start looking and say: 'Maybe we can build towards that fight'.
"I will move quickly. Within 12-18 months I could be unified world champion.
"Positive thinking. We are doing work behind the scenes so that, when the opportunity arises, we take it with both hands.
"Nobody – nobody – is safe!"
Riakporhe has won all 11 of his fights, emerging consecutively through tough-matched fights against Sam Hyde, Tommy McCarthy, Chris Billam-Smith and Jack Massey.
"We've done a number on these cruiserweights in the UK," Riakporhe said. "Now we want to push onto fringe world level and eventually get that world title, then unify.
"We want to push straight away. I'm in my prime physically.
"We've done a number on these guys who still aren't looking too great. I have confidence that I would destroy them."
Riakporhe said about his tough route so far: "When I came into the game I was chucked into the deep end. It was sink or swim.
"I had to find a way to learn on the job.
"We want to see adversity, how somebody overcomes certain situations in the ring. With me, you saw that from the very first match.
"'Richard was lucky, he got through, how will he do with the next one?'
"Next one? I blew him out of the water.
"'Richard has the power to go all the way!'
"Everybody lost their money betting against Riakporhe."
Richard Riakporhe showed devastating power as he blew away Tommy McCarthy

He has come from behind to win fights and said: "I thought it was normal for fighters to push through. I don't understand how a fighter could give up mid-round by being defeated in their mind. I am the complete opposite.
"I have nothing to lose. I will make sure I give my opponent hell. Even if you are beating me you have to do something different."
Riakporhe has eight KOs in 11 wins and warned: "We have the punch power. We can knock out any fighter in the world if we land in the right place at the right time.
"It's all about fine-tuning, being able to box laterally, on the back foot, forwards. Being able to use creativity. It's an art and we want to show the art form.
"We don't have one set plan.
"In the ring, things don't go as you plan. You might find an opening where you have to change your style. We want to make sure we have those boxes ticked."
Look back at Lawrence Okolie's world title win


Now trained by Angel Fernandez, who is part of Joshua's training set-up, Riakporhe said: "Eleven fights, to have won the British title, the WBA continental, to be undefeated, to have beaten four guys in the top 10? It's crazy.
"When you look at the CV, it's ridiculous.
"But we don't look at the CV. We have buried it. We look at the future.
"I never look at the CV or what someone has accomplished because this is a lifestyle. You have to live it consistently. Once you stop living that life, it doesn't matter what you have achieved. You will get hurt by somebody like me, who is hungry."
Riakporhe was stabbed and his life was veering off track before he found boxing as a 19-year-old.
"I have been through a lot of adversities in my life," he said. "I know people from back then who are in prison. I have become a reformed individual who gives back to my community.
"'If Richard can do it, why can't I?'
"If I had role models around my area who achieved things I could resonate with, I would have thought: 'I can do that instead of chilling with low-lives'.
"Boxing kept me off the streets. I was in the gym when my friends were hanging around the block."